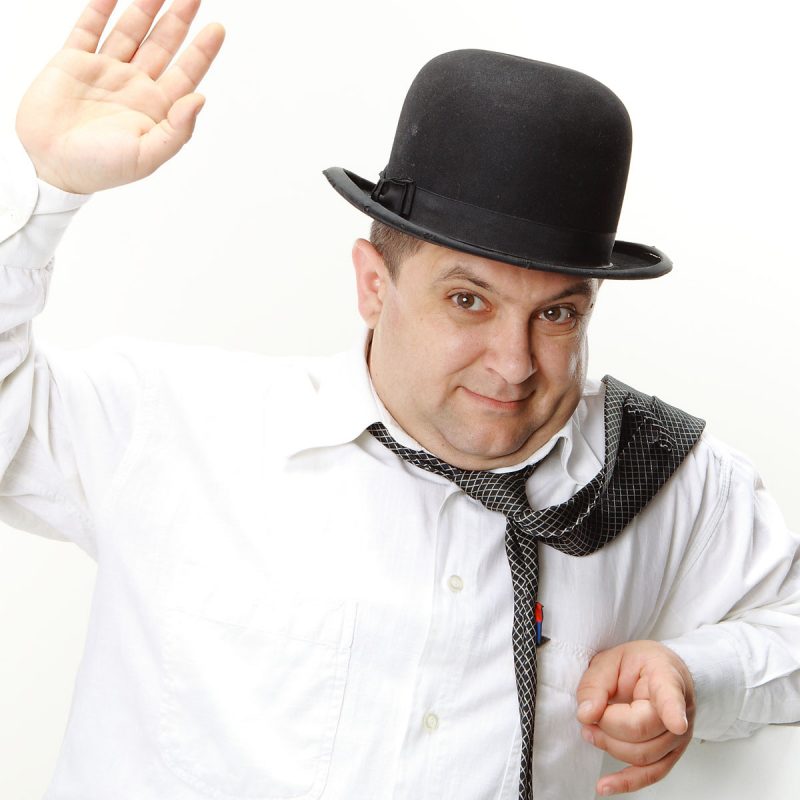 Born on 19 August 1967 in Kavarna.
Graduate from Kr. Sarafov NATFA in Prof. Nikolina Georgieva`s  class in 1994.
Probationary actor at Dora Gabe SPT, Dobrich (1989-1990); actor at Educational Theatre, Sofia (1995); actor at SPT, Varna since 2005.
Career
Cast: In Dora Gabe SPT, Dobrich -  The Three Snowmen - Snowy, A Tale of the Jungle - the Crocodile, The Tale Tailor - soldier, first councilor.
At SPT, Varna: The Sleeping Button - the Old Man, The Three Piglets - The Wolf, Spring Frolics - The Wolf, The Mad Kite - the Hedgehog, A Story About the Singing Tree - the Witch, The Little Parrot Rony - the Owl and Bush, Little Ida's Flowers, Znaiko Know – all, The Golden Fish, Santa Claus` Assistant,  The Red Riding Hood on Christmas Eve, Some Peculiarities of the…Puppet Theatre, Beauty and the Beast, The Beauty is Sleeping, Christmas Frolic with Tsvyatko and Bradatko, Frog The King,Puss in Boots – The King, Grandpa and the Turnip, Christmas Stars, The Island of Songs, Outlook of a Stump, Bollywood, Grandpa's Mitten, Nine and a Bit, Piggy The Unruly, Mushroomy, The Magic Tinder, With a Light Step and Other Tries , Little Wizards, Legally Liar, Christmas Carnival , Christmas House, Who in the forest knows the rules?, My Dear Teacher, The Purple Island,Hurry Up To Kindergarten, Sivodreshko and Barzobezhko, The Three Snowmen, March Fun, The Little Mermaid, Greedy Goody Bear, Winnie the Pooh, Orpheus, Christmas Slide, Western, The Adventures of Cipollino, Carnival  in the Forest, Three Dioptres Happiness, The Fox, Grandma Marta has come,  A tale for you! The Fox and the Stork,  A tale for you! Parade of Letters and Puppets,  A tale for you! Hitar Petar and the Dragon, If Freud was an Indian,The Forest Singers, Christmas Adventures in the Fairy Forest, On the Green Meadow, I am Bulgarian,  The Three Little Pigs, Mower Men, Glarus Retro Cabaret,Princess and Prince Pumpkin in the Kingdom of the Autumn, Christmas in the Winter Palace, A Tale of the Seven Goats,  Through the Looking Glass etc.
Directing: Sivodreshko and Barzobezhko, The Three Snowmen.
Participation in the Children's theater classroom (2020).
Host of the radio shows Tintiri-Mintiri and Smehurko on BNR; Baby's Bottle on Radio 199; actor in TV broadcasts of BNT, Hello, Sunday At An Unseasonable Time, It Is Not Possible.Casting in the movie One More Dream directed by Nikolay Mutafchiev.
Awards
- Prize for acting mastery by the Center of Literature and Arts for Children and Youth, Sofia awarded at the 8th The Golden Dolphin IFBPP,Varna /1990/;
- Prize for male part and the Big prize The Golden Dolphin for an overall performance – for A Story About the Singing Tree at the 13th International Puppet Festival The Golden Dolphin, Varna/2005/;
- The big prize The Golden Dolphin for an overall performance(section performances for adults) Outlook of a Stump and Prize for artistry (section performances for adults) - to the artistic team having realized the performance Outlook of a Stump at the 15th International Puppet Festival The Golden Dolphin, Varna/2011/;
- Varna Prize 2012 for the performance Outlook of a Stump;
- IKAR Award 2014 for Best Performance for Legally Liar;
- Award for Best Actor to Krasimir Dobrev and 3rd Award to Little Wizards bestowed by the Foundation for Eastern European Projects, Dordrecht, Holland at the 21st International Puppet Theatre Festival Three are to many - two not enough, Plovdiv /2014/;
- Award for best male performance to Krasimir Dobrev for Little Wizards and Legally Liar and Award for artistry (section performances for children) to the artistic team of the performance Little Wizards at the 16th International Puppet Festival The Golden Dolphin, Varna/2014/;
- The Big Prize for the performance Little Wizards at the 19th National Puppet Theatre Festival "Mihail Lakatnik", Yambol /2015/;
- Acting award given to Krasimir Dobrev for the role in the performance Little Wizards at the 14th International Festival of Children's Theatres, Banja Luka , Republic of Serbia/2015/
- Varna Prize 2017 to the team of the performance Winnie the Pooh after A. Milne, directed by Biserka Kolevska
- The Grand Prix "The Golden Dolphin" is bestowed to Varna State Puppet Theatre, Bulgaria for the visual performance based on motifs from ancient mythology "ORPHEUS". Director – Boian Ivanov, stage design and costumes – Svila Velichkova, choreography – Tatyana Sokolova, music - Hristo Namliev, video mapping - Todor Todorov at 17th The Golden Dolphin International Puppet Festival, Varna, 2017
- Award for achievement in humor and satire in the Bulgarian theater "Golden Kukerikon-2021" for the performance "If Freud was an Indian"
- Varna Prize 2022 for professionalism and creative imagination in creating of the show for adults "Glarus Retro Cabaret", dedicated to "Varna - 100 years resort "
- Grand Prix (performances for children) for the performance Through the Looking Glass – Musical adapted from the novel by Lewis Carroll by Varna State Puppet Theatre, Bulgaria at 18th International Puppet Festival The Golden Dolphin, Varna, Bulgaria, 2022