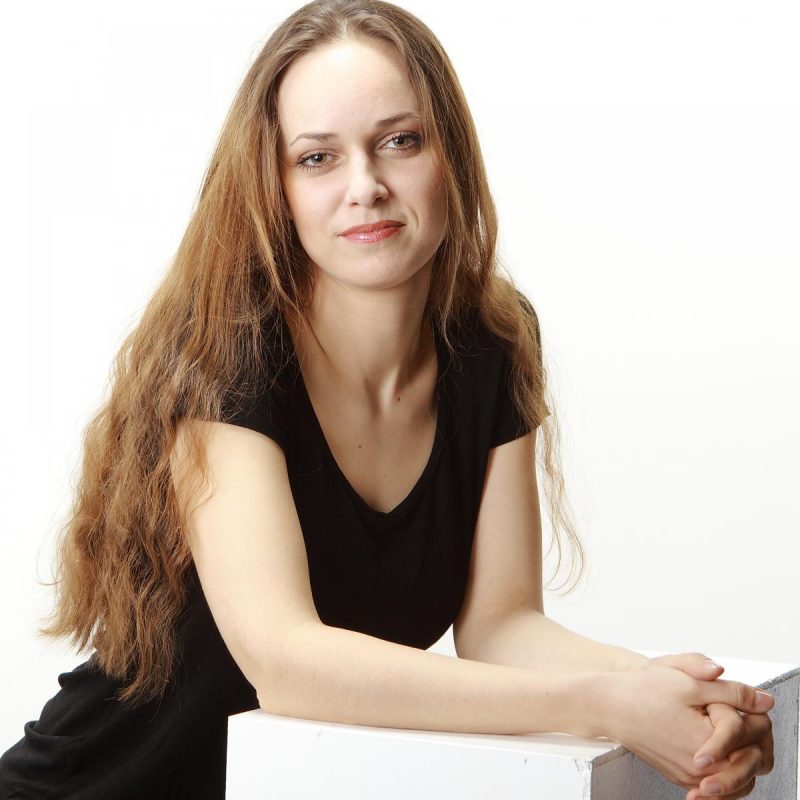 Born on 29 August 1980 in Varna.
In 2006, she completed her puppetry studies at Kr. Sarafov NATFA in Prof. Rusen Rachev's class. She is a member of the SPT Varna company since 2006.
Career
Casting in: The Cave and the Shadows, Yanek and Hanka - Hanka, Santa Claus' Assistant,The Red Riding Hood on Christmas Eve, Spring Frolics, The Little Parrot Rony - Lenny, Little Ida's Flowers – Ida, Some Peculiarities of the…Puppet Theatre, Beauty and the Beast, Christmas Magic, The Curious Friedrich, Christmas Statrs, The Island of Songs, Bollywood, Christmas Magic, Nine and a Bit, The Fabulous Princess, Christmas Bells, Silent Legends, My Dear Teacher, Sivodreshko and Barzobezhko, Sleeping Beauty, The Little Mermaid, Grandpa`s Mitten,Hurry Up To Kindergarten, Christmas Tree, Mozart in Love, Orpheus, Western etc.
Awards
- Award for Experimental and New Forms for The Cave and the Shadows at the 5th International Puppet Theatre Festival for Adults Pierrot, Stara Zagora/2007/;
- Varna 2007 Award – collective,for the artistic team having realized the performance The Cave and the Shadows;
- Prize for development of the theatre's means of expression - for The Cave and the Shadows at the 14th International Puppet Festival The Golden Dolphin /2008/;
- 3rd Award to Little Wizards bestowed by the Foundation for Eastern European Projects, Dordrecht, Holland at the 21st International Puppet Theatre Festival Three are to many - two not enough, Plovdiv /2014/;
- Award for artistry (section performances for children) to the artistic team of the performance Little Wizards at the 16th International Puppet Festival The Golden Dolphin, Varna/2014/;
- Special IKAR Award 2015 for striking imagery for Silent Legends;
- The Big Prize for the performance Little Wizards at the 19th National Puppet Theatre Festival "Mihail Lakatnik", Yambol /2015/;
- Varna Prize 2015 to the team of the performance Silent Legends
- The Grand Prix "The Golden Dolphin" is bestowed to Varna State Puppet Theatre, Bulgaria for the visual performance based on motifs from ancient mythology "ORPHEUS". Director – Boian Ivanov, stage design and costumes – Svila Velichkova, choreography – Tatyana Sokolova, music - Hristo Namliev, video mapping - Todor Todorov at 17th The Golden Dolphin International Puppet Festival, Varna, 2017