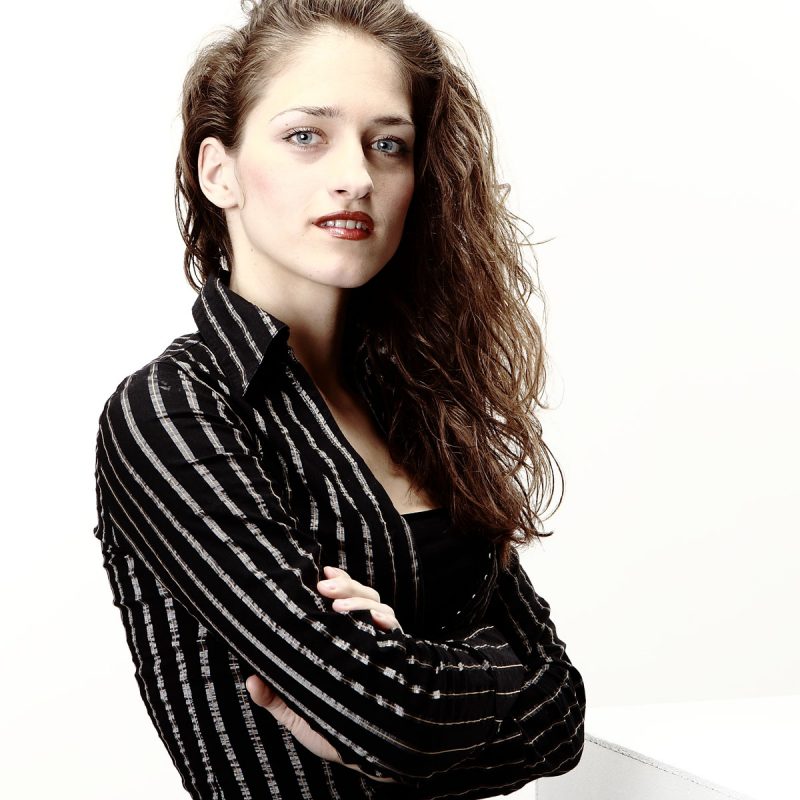 Born on 20 August 1981 in Pleven.
Graduate from Kr. Sarafov NATFA in Zheni Pashova's class in 2004. Probationary actress at Ivan Radoev Drama Theatre, Pleven (1997-2000). Actress at SPT, Varna since 2004.
Career
Parts: In Ivan Radoev DT, Pleven: Romeo and Juliet - Juliet, Midsummer Night's Dream - Helena, Love Boulevards - Laura, Marquise de Sad - Charlotte, Don Quixote - Dulcinea, Ah! The Laughter - Sarah Bernard.
In Varna SPT: Storm - Miranda, The Sleeping Button - Ogi, Spring Frolics, Red Riding Hood on Christmas Eve - the Red Riding Hood, The Little Sunflower - the Little Sunflower, Thumbelina - Thumbelina, A Story About the Singing Tree - the Princess, The Little Parrot Rony - the Butterfly, The Snow Queen - Gerda, The Cave and the Shadows, Little Ida's Flowers, Some Peculiarities of the….Puppet Theatre, Beauty and the Beast – the Beauty, Grandpa and the Turnip, The Happy Prince – the Swallow, Bollywood,Grandpa's Mitten, Nine and a Bit, Snow White and the Magical Gift, Mushroomy,The MagicTinder, With a Light Step and Other Tries, Little Wizards, Legally Liar, Christmas Bells, Silent Legends, Rapunzel, Sleeping Beauty, The Purple Island, Christmas Tree, Western, The Three Fairies, The Adventures of Cipollino etc.
Casting in the Bulgarian movie: Love.net, the US fiction movie Giant Scorpions, in BNTV's SHASH TV show, children's TV show Who Is Best of the Best; staring in commercials, music video clips, doubling of Disney cartoons, etc.
Awards
- Award for best female performance to Evgeniya Vasileva for her role in Thumbelina and The big prize The Golden Dolphin for an overall performance – for A Story About the Singing Tree at 13th International Puppet Festival The Golden Dolphin, Varna /2005/;
- Best Performance Prize for Thumbelina at the 6th Asian International Puppet Festival in Taipei, Taiwan /2005/;
- The big prize for the performance Thumbelina at the International Puppet Theatre Festival in Shanghai, China/2005/ ;
- Award for Thumbelina by the international jury for best vision of a children's performance at the 15th International Puppet Theatre Festival Three Are Too Many, Two – Not Enough, Plovdiv/2006/;
- Award for Experimental and New Forms for The Cave and the Shadows at the 5th International Puppet Theatre Festival for Adults Pierrot, Stara Zagora/2007/;
- Varna 2007 Award – collective,for the artistic team having realized the performance The Cave and the Shadows;
- Prize for development of the theatre's means of expression - for The Cave and the Shadows at the 14th International Puppet Festival The Golden Dolphin /2008/;
- Award for artistry to Evgeniya Vasileva in A Story About the Singing Tree at the 7th International Festival of Children's Theatres - Banja Luka 2008, RS/2008/;
- Award for best female performance to Evgeniya Vasileva for Silent Legends and Little Wizards and Award for artistry (section performances for children) to the artistic team of the performance Little Wizards at the 16th International Puppet Festival The Golden Dolphin, Varna /2014/;
- IKAR Award 2014 for Best Performance for Legally Liar;
- 3rd Award to Little Wizards bestowed by the Foundation for Eastern European Projects, Dordrecht, Holland at the 21st International Puppet Theatre Festival Three are to many - two not enough, Plovdiv /2014/;
- Special IKAR Award 2015 for striking imagery for Silent Legends;
- The Big Prize for the performance Little Wizards at the 19th National Puppet Theatre Festival "Mihail Lakatnik", Yambol /2015/;
- Varna Prize 2015 to the team of the performance Silent Legends