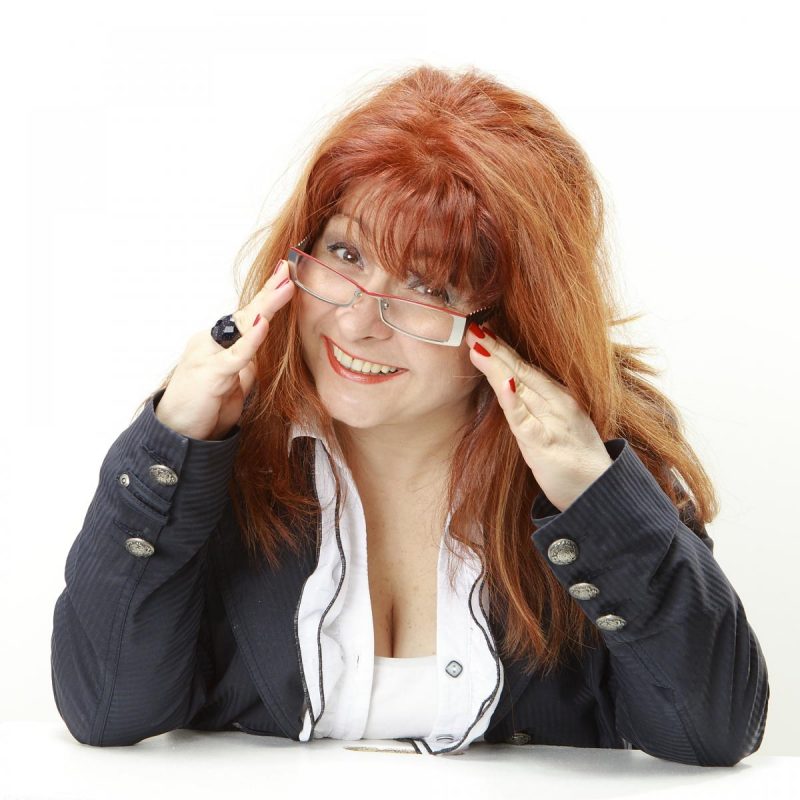 Manager of State Puppet Theatre, Varna since July 2006.
Born on 25.10.1958.
She graduated from professor Nikolina Georgieva's class at Krastyu Sarafov Theatre and Film Acting Academy in 1982. The same year she was appointed at Varna State Puppet Theatre.
Career
Author and director of the plays: On the Christmas Eve, Small Christmas Tale, A Tale of the Bethlehem Star, Christmas Tree, Folklore Fantasies (co-author), Christmas Star, The Wheat Loaf, Thumbelina, Spring Frolics, The Snow Queen, The Cave and the Shadows, Some Peculiarities of the…Puppet Theatre, Visit to Grandma Marta, Beauty and the Beast, Christmas Magic, Christmas Stars,Island of the Songs, Mushroomy, Little Wizards, Christmas Carnival, Christmas House, Who doesn't eat vegetables, Fabulous Christmas, Christmas Frolics, This apple is strange and the woods it will change, Magic meadow, Christmas Slide,  The Three Fairies etc.
Amongst the number of her roles in theatre's performances are: Booboo - Boubou, White Story - Macho, The Light Blue Peter - Light Blue Peter, The Little Prince - the Little Prince, The Storm - Antonio and Stefano, Alice - the White King, The Third Ear - the Three-ear Rabbit, Thumbelina - the Frog and the Mouse, The Crazy Kite - Lissy, Folklore Fantasies - Maiden, The Little Duckling - Yellow Duckling, Spring Frolics - the Bear, Kosse Bosse - the Blackbird, Understating - the Turtle, The Beauty is Sleeping, Allegro Vivace,Outlook of a Stump, Bollywood, Nine and a Bit, With a Light Step and Other Tries, Legally Liar , Silent Legends, Sleeping Beauty, The Purple Island, The Magic Cooks, Winnie the Pooh, Mozart in Love, Western, Bunny at Sea etc.
Radio broadcasts host at Varna Radio: 1001 Mornings and the Tale Tower.
Awards
- Award for the performance Toshko Africanski at The Comedy Show Festival, Gabrovo/1983/;
- The big prize The Golden Mask for Play of Lights and Shadows and Yellow Boy at 5th International Festival of Puppet Theatres, Tehran, Iran /1994/;
- Prize for the most vivid and unusual means of expression in the performance Birds at Burborak Festival, Smolyan/1994/;
- Awarded the Puppeteer prize for acting in The Crazy Kite /1997/;
- Award for acting in Kosse Bosse at the 11th edition of The Golden Dolphin IPF/1999/;
- Varna Prize 2002 for the performance Folklore Fantasies;
- Special prize to the performance Hercules at the 12th International Puppet Festival The Golden Dolphin – Varna, Bulgaria /2002/
- Audience's prize for Folklore Fantasies at the Puppet Festival, Tolosa, Spain/2003/;
- Best performance prize for Folklore Fantasies at the 5th Asian International Puppet Festival, Taipei, Taiwan /2004/;
- Best Performance Prize for Thumbelina at the 6th Asian International Puppet Festival in Taipei, Taiwan /2005/;
- The big prize for the performance Thumbelina at the International Puppet Theatre Festival in Shanghai, China/2005/;
- Award for Thumbelina by the international jury for best vision of a children's performance at the 15th International Puppet Theatre Festival Three Are Too Many, Two – Not Enough, Plovdiv /2006/;
- Award for the acting ensemble for the performance Folklore Fantasies at the 8th International Festival of Performances for Children The Magic Curtain, Targovishte/2007/;
- Award for Experimental and New Forms for The Cave and the Shadows at the 5th International Puppet Theatre Festival for Adults Pierrot, Stara Zagora/2007/;
- Varna 2007 Award – collective,for the artistic team having realized the performance The Cave and the Shadows;
- Prize for development of the theatre's means of expression - for The Cave and the Shadows at the 14th International Puppet Festival The Golden Dolphin /2008/;
- The big prize The Golden Dolphin for an overall performance(section performances for adults) Outlook of a Stump and Prize for artistry (section performances for adults) - to the artistic team having realized the performance Outlook of a Stump at the 15th International Puppet Festival The Golden Dolphin, Varna/2011/;
- Varna Prize 2012 for the performance Outlook of a Stump;
- IKAR Award 2014 for Best Performance for Legally Liar;
- 3rd Award to Little Wizards bestowed by the Foundation for Eastern European Projects, Dordrecht, Holland at the 21st International Puppet Theatre Festival Three are to many - two not enough, Plovdiv /2014/
- Award for best direction to Vera Stoykova for Little Wizards at the 16th International Puppet Festival The Golden Dolphin, Varna/2014/
- Special IKAR Award 2015 for striking imagery for Silent Legends;
- Varna Prize 2015 to the team of the performance Silent Legends
- The Big Prize for the performance Little Wizards at the 19th National Puppet Theatre Festival "Mihail Lakatnik", Yambol /2015/
- As a Manager – IKAR Award 2010 and 2013 for most successful management and marketing
- 2016 ASKEER Nomination for Best Actress:Vera Stoykova for her part as Ghenadii Panfilovich – theater's director in The Purple Island by Mikhail Bulgakov, staging by Tedy Moskov, Varna State Puppet Theatre
- Varna Prize 2017 to the team of the performance Winnie the Pooh after A. Milne, directed by Biserka Kolevska
- Award for Best Actress to VERA STOYKOVA – for her part of Winnie the Pooh in the performance "Winnie the Pooh" by State Puppet Theatre – Varna, Bulgaria, director Biserka Kolevska at 17th The Golden Dolphin International Puppet Festival, Varna, 2017
- The Grand Prix "The Golden Dolphin" is bestowed to Varna State Puppet Theatre, Bulgaria for the visual performance based on motifs from ancient mythology "ORPHEUS". Director – Boian Ivanov, stage design and costumes – Svila Velichkova, choreography – Tatyana Sokolova, music - Hristo Namliev, video mapping - Todor Todorov at 17th The Golden Dolphin International Puppet Festival, Varna, 2017
- Award for team work in the creation of the characters by the meanings of improvisation and for the stimulation of the imagination of the young spectators for The Magic Cooks at the 19th  The Magic Curtain International Festival of Performances for Children, Targovishte, Bulgaria