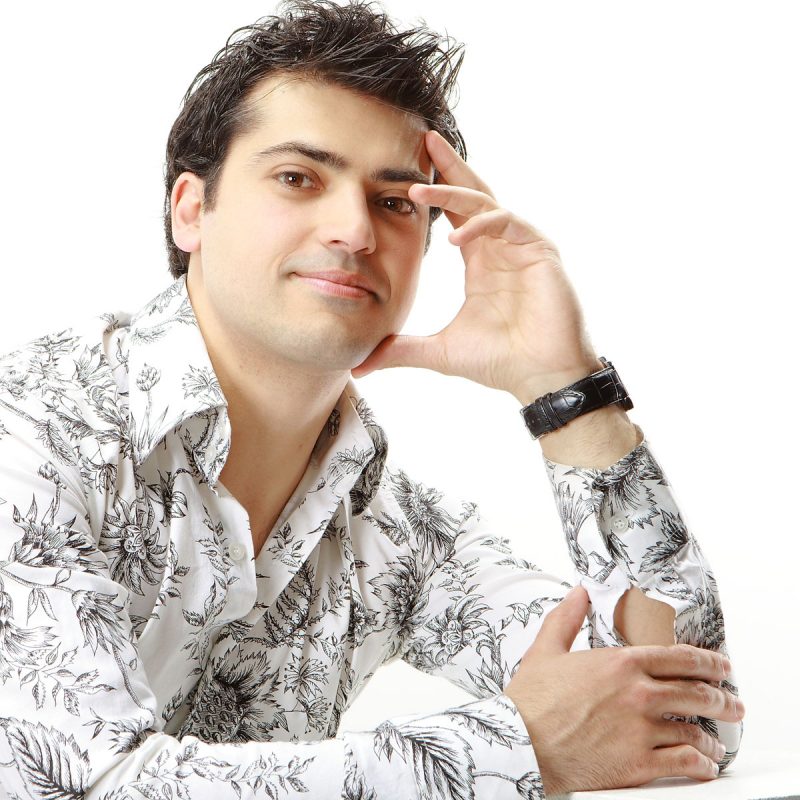 Born on 6 July 1980 in Stara Zagora.
Graduate from Kr. Sarafov NATFA in Zheni Pashova's class. Actor at SPT, Varna since 2004.
Career
Casting in: Storm - Prince Ferdinand, The Little Sunflower - Murcho the Tomcat, Thumbelina, A Story About the Singing Tree - the Prince and the King, The Sleeping Button - the Fool, Spring Frolics,The Frog King - the Frog, The Snow Queen - Kay, The Little Parrot Rony - the parrot Rony, The Cave and the Shadows, Little Ida's Flowers, Christmas Tree, Some Peculiarities of the …Puppet Theatre, Beauty and the Beast – the Beast, The Curious Friedrich – Friedrich, Christmas Magic, Mozart and Salieri – Mozart, Grandpa and the Turnip, Christmas Stars, The Happy Prince, Outlook of a Stump, Bollywood,Christmas Magic, Тhe Island of Songs, Nine and a Bit, Mushroomy, The Magic Tinder , With a Light Step and Other Tries, Little Wizards, Legally Liar, Christmas Bells, Silent Legends,The Purple Island, Forest Garden, Sleeping Beauty, Sivodreshko and Barzobezhko, Winnie the Pooh, Christmas Tree, Magic meadow, Mozart in Love, Orpheus, Western,  The Adventures of Cipollino,Hello, School! etc.
Director of the performances Christmas Bells,On the Green Lawn, Christmas Tree.
Guest starring in the performance Boryana of Stoyan Bachvarov Drama Theatre, Varna.
Starring in the Italian TV movie Dalida (2004).
Awards
- The big prize The Golden Dolphin for an overall performance – for A Story About the Singing Tree at the 13th International Puppet Festival The Golden Dolphin, Varna/2005/;
- Best Performance Prize for Thumbelina at the 6th Asian International Puppet Festival in Taipei, Taiwan /2005/;
- The big prize for the performance Thumbelina at the International Puppet Theatre Festival in Shanghai, China/2005/ ;
- Award for Thumbelina by the international jury for best vision of a children's performance at the 15th International Puppet Theatre Festival Three Are Too Many, Two – Not Enough, Plovdiv/2006/;
- Award for Experimental and New Forms for The Cave and the Shadows at the 5th International Puppet Theatre Festival for Adults Pierrot, Stara Zagora/2007/;
- Varna 2007 Award – collective,for the artistic team having realized the performance The Cave and the Shadows;
- Prize for development of the theatre's means of expression - for The Cave and the Shadows at the 14th International Puppet Festival The Golden Dolphin /2008/;
- Individual Varna Prize 2009 for the Beast`s part in Beauty and the Beast;
- The big prize The Golden Dolphin for an overall performance(section performances for adults) Outlook of a Stump and Prize for artistry (section performances for adults) - to the artistic team having realized the performance Outlook of a Stump at the 15th International Puppet Festival The Golden Dolphin, Varna/2011/;
- Varna Prize 2012 for the performance Outlook of a Stump;
- IKAR Award 2014 for Best Performance for Legally Liar;
- 3rd Award to Little Wizards bestowed by the Foundation for Eastern European Projects, Dordrecht, Holland at the 21st International Puppet Theatre Festival Three are to many - two not enough, Plovdiv /2014/;
- Award for artistry (section performances for children) to the artistic team of the performance Little Wizards at the 16th International Puppet Festival The Golden Dolphin, Varna/2014/;
- Special IKAR Award 2015 for striking imagery for Silent Legends;
- The Big Prize for the performance Little Wizards at the 19th National Puppet Theatre Festival "Mihail Lakatnik", Yambol /2015/;
- Varna Prize 2015 to the team of the performance Silent Legends
- Varna Prize 2017 to the team of the performance Winnie the Pooh after A. Milne, directed by Biserka Kolevska
- The Grand Prix "The Golden Dolphin" is bestowed to Varna State Puppet Theatre, Bulgaria for the visual performance based on motifs from ancient mythology "ORPHEUS". Director – Boian Ivanov, stage design and costumes – Svila Velichkova, choreography – Tatyana Sokolova, music - Hristo Namliev, video mapping - Todor Todorov at 17th The Golden Dolphin International Puppet Festival, Varna, 2017